In this quick overview we'll go over some of the features of Papers2 that helps you organize your documents and turn them into your personal library of research.
Starting Papers2
Welcome page
When you start up Papers2 for the first time you'll be prompted to go through a few steps that help you get set up.
If you're already a Papers user, Papers will notice this and ask you to update your library to use with Papers2
If you would like to do this select 'update' and your library from Papers1 will be imported. You can also skip this if you like.
Your library card
Once you've updated your library (or if you skipped this step) you'll be asked to set up your library card.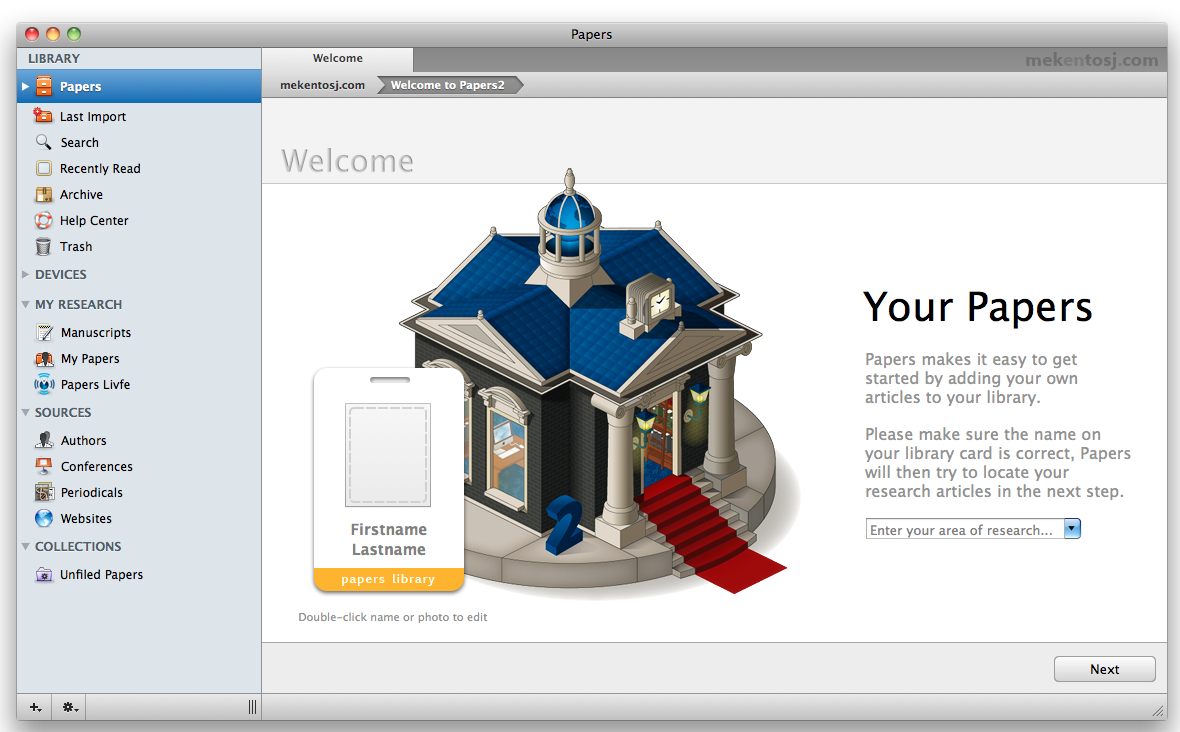 Filling in this information will help Papers locate any research you have written and published in the past, which you can immediately add to your library.
Add a picture to your library card by double-clicking on it. You can use choose an image from your hard drive, drag and drop an image straight onto the library card from another folder or take a snapshot using your Mac's built in iSight camera.
You can select your area of research from one of the available options or you can type it in.
Filling in your library card doesn't just personalise papers. The information on it is used for one of the most exciting new features of Papers2 - Papers Livfe.
Finding your research
When finished with your library card, click on 'Next'. Papers2 will locate your published research. In the example below a number of results have been returned.
Any of these papers you have authored or co-authored you can easily add to your library by dragging and dropping these papers into the box underneath your library card.
If you're done adding papers you can click on 'Next'.
Exploring Papers2
On the left you'll see 'Library', 'My Research, 'Sources' and 'Collections'.
To preview any article you have just select it and hit 'space bar'.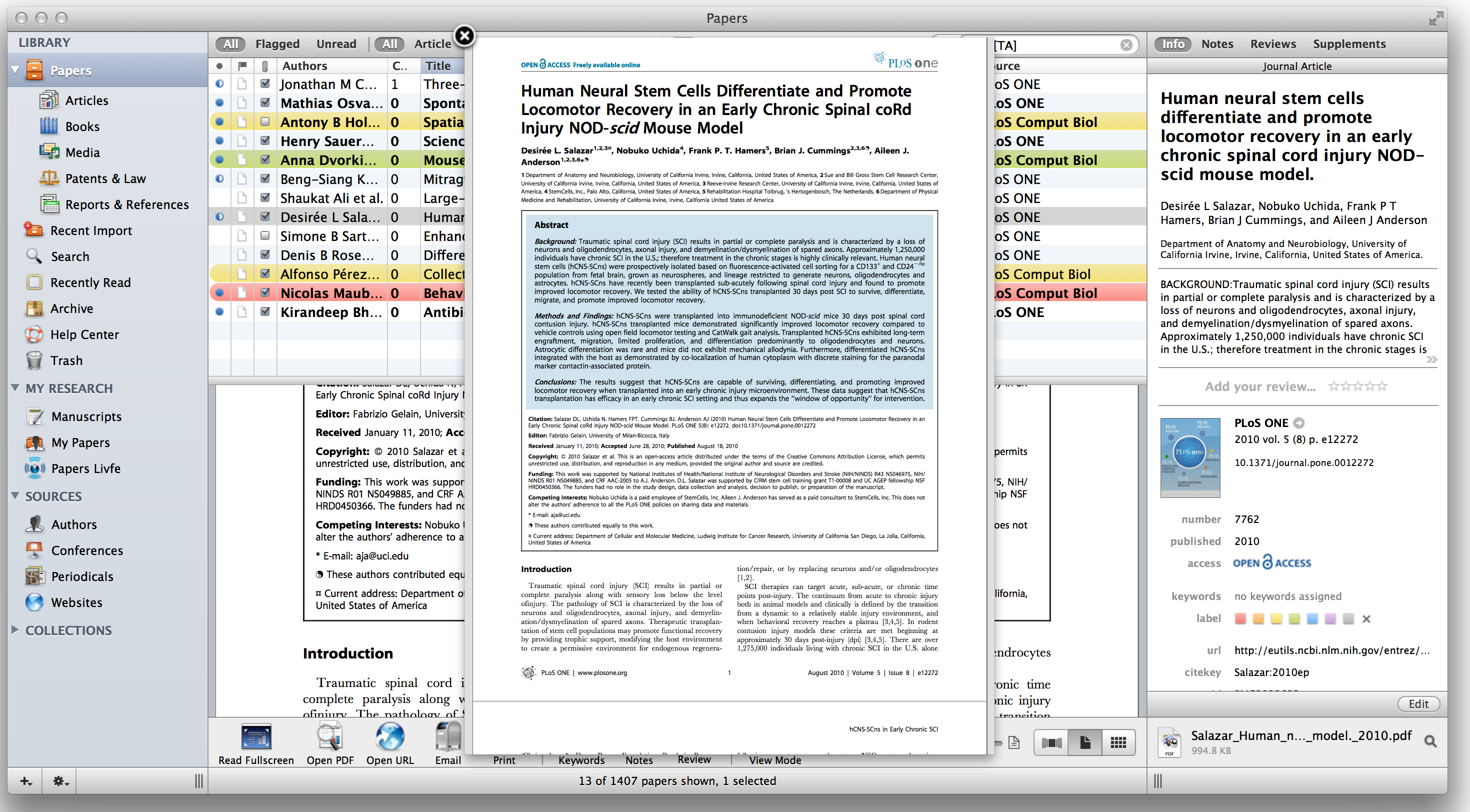 You can add papers that you have on your hard drive by dragging and dropping them into your library.
New documents are added into the 'Recent Import' section.
If metadata is available for the document it will immediately show up in the inspector window
You can also add your own information or edit the information by clicking on 'Edit'.
Double-click on any article or document and it will open up in a new tab. You can also zoom in or out for easier reading using the slider at the bottom of the screen.
Fullscreen mode
You can also read fullscreen by clicking the 'read fullscreen button' near the bottom right.
Effortlessly add notes in fullscreen mode by selecting the 'notes' button on the bottom right.
Papers will save your notes with the documents that they belong to so you can easily find them again.
Don't worry about losing your notes - they're automatically saved.
You can also add notes that are very specific to a particular paragraph of your article, and you can navigate back to that paragraph when reading your notes. To do so, hold the command button and double click anywhere in the margin of the article.
You can access your notes and add to them even when you're not in fullscreen mode by clicking on the 'Notes' icon at the bottom of the screen.
Sharing documents
Sharing documents is also incredibly easy. Click on the 'Email' icon and fill in the information and your document is automatically attached.
If no PDF is attached in your Papers2 library only the citation will be added.
These are some of the basic to get you started with Papers2. Now you know how to get yourself set up, add your own work, add other PDFs and how to read documents and take notes. Future tutorials will go into greater depth with these features and many more.