Mac OS X CS3/4 & SmartCite [Legacy] Fix
Please note that this article is in reference to SmartCite [Legacy]; this version is no longer being developed. Please check out SmartCite 2.0!

If you notice the below error message when you attempt to launch SmartCite or run ReadCube:

"There is a known compatibility issue preventing SmartCite from working properly on your computer."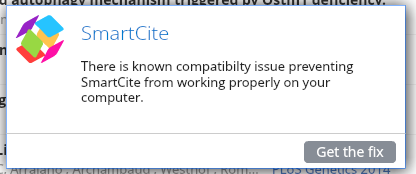 The first thing to check is to make sure that your Microsoft Word is functioning properly.  Quickly restarting both Microsoft Word and ReadCube after you save your work, then re-opening the document should fix your problem the majority of the time.  If this still doesn't help, the "get the fix" link will likely help OS X users who have Adobe Creative Suite 3/4 installed.  It links to the following location:

http://helpx.adobe.com/photoshop/kb/unit-type-conversion-error-applescript.html

If the problem persists, please contact ReadCube technical support by e-mailing support@readcube.com.